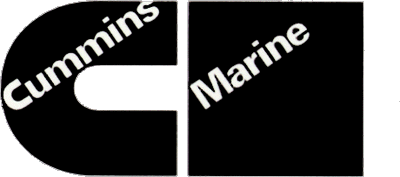 | | | |
| --- | --- | --- |
| High Output Rating | U.S. Std | Metric |
| Crankshaft Power | 420 BHP | 131 kW |
| Rated Speed | 2600 rpm | 2600 rpm |
| Fuel Consumption | 23.3 gal/hr. | 88.2 L/hr. |
| Bore x Stroke | 4.49" x 5.32" | 114 x 135 mm |
| Piston Displacement | 504.5 cu. in. | 8.3 L |
| Compression Ratio | 15.5:1 | 15.5:1 |
| Dry Weight* | 2239 lb. | 1016 kg |
| Metric HP (mhp) | 426 | 426 |

Four Stroke Cycle, Turbocharged, Aftercooled,
Direct Injection, In-Line, 6 Cylinder Diesel Engine
Design Features:
Bearings:
Replaceable, precision type aluminum steel backed. Seven main bearings 3.86 in. (98 mm) diameter. Connecting rod bearings 2.99 in. (76 mm) diameter.
Camshaft:
Hardened cast iron for increased wear resistance and long life. Seven replaceable type precision bushings 2.36 in. (60 mm) diameter.
Connecting Rods:
Drop forged I-beam section, 8.50 in. (216 mm) center-to-center length. Rod is tapered on piston pin end to reduce unit pressures.
Crankshaft:
Eight counterweight fully balanced high tensile strength steel forging with induction hardened fillets and journals.
Cylinder Block:
Alloy cast iron with removable wet liners.
Cylinder Head:
One piece cross flow cylinder head for short length and maximum structural stiffness of block/head assembly. Contains replaceable valve guides and seat inserts.
Cylinder Liners:
Mid-stop replaceable wet liners feature a new liner clamping method which seals at the middle of the liner with a press fit at the top. This design eliminates the need for packing rings and crevice seals.
Raw Water Aftercooler:
Large capacity aftercooler results in cooler, denser air for more efficient combustion and reduces internal stress for longer life.
Two Valves Per Cylinder:
With single valve springs, for fewer parts.
Water Cooled Exhaust Manifold and Water Cooled Turbo Charger:
Configures for rear-out exhaust for lower profile.
Available Equipment
Accessory Drive System: 1 and 2-groove front crankshaft pulley.
Air Intake System: Mounted light duty air cleaner. Remote mounted heavy duty air cleaner.
Cooling System: Mounted heat exchanger, raw water pump, expansion tank and marine gear oil cooler.
Electrical System: 12 or 24 volt starter, alternator, and fuel shut off valve. Alternator belt guard. Instrument panel not mounted. Fully wired engine.
Flywheel Housing and Flywheel: SAE No. 3 housing. Flywheel for 11.5 in., or 10 in., over center clutch. SAE No. 2 housing. Flywheel for 11.5 in., over center clutch.
Fuel System: Fuel water separator not mounted.
Lubrication System: Shallow sump cast aluminum oil pan. Port or starboard dipstick location.
Marine Agency Certification: Available from LR,BV,DNV,ABS.
Mounting System: 4 point mount on 26 in., (660 mm) or 28in. (711 mm) center. Various gear brackets. Vibration isolators.