Crusader Marine Engines
7.4L MPI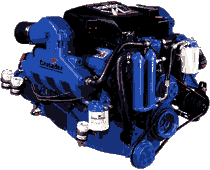 Introducing the first in a new breed of excellence
With the Model 7.4L MPI, Crusader has revisited a classic power range and introduced a new standard of excellence for inboard performance and reliability.
Incorporating the new MSTS computerized engine management system, the 7.4L MPI maintains maximum horsepower output with optimum fuel efficiency at every rpm, under all operating conditions. This increased engine efficiency, responsiveness and performance is the result of exceptional engine spark regulation through a unique knock control sensor, manifold absolute pressure (MAP) sensor, high energy ignition and electronic control module.
As the industry's new benchmark for inboard efficiency, the 7.4L MPI's equipment list includes features destined to redefine inboard requirements, including: a recalibrated carburetor for more efficient fuel flow, a redesigned oil system for improved engine lubrication, a new electric fuel pump for more effective fuel handling, easy-to-service belt adjusters, a unique center manifold design that provides the most efficient exhaust flow in the industry, and much more.
Model 7.4L MPI. Destined to change how we think about what's exceptional in marine power.. and only from the most experienced manufacturer of V8 gas inboard power in the world.
| | |
| --- | --- |
| Model | 7.4L MPI |
| Cylinders | V8 |
| Bore | 107.95 mm (4.25 in) |
| Stroke | 101.60 mm (4.00 in) |
| Displacement lit. (cu in) | 7.4 liter (454 c.i.d.) |
| Compression | 8.9:1 |
| Electrical system | 12V negative ground |
| Engine Rotation | Left Hand and Right Hand |
| Weight | 1150 lbs. (direct drive) |
| Maximum hp* | 320 (239 kW) @ 4400 rpm |
| Fuel Consumption | 24 GPH @ 4400 rpm |
*Horsepower is now rated at the prop shaft in compliance with industry standards, SAEJ1228.